Elena Lopez-Trigo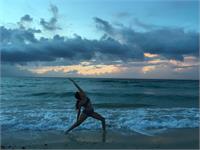 Elena discovered yoga in 2013 at a rock climbing gym and was introduced to a variety of practices. Since then, Elena has been a regular at Energy Yoga for the past year and practices Ashtanga and Dharma Flow.
When Elena is not on the mat, you can find her cycling Key Biscayne, or regularly providing assistance with people's body mechanics, movement, and exercises; She is pursuing a degree in physical therapy. She will be receiving her RYT 200 in May 2017 and is excited to guide people in their practice.
Elena Lopez-Trigo instructs the following:
This class is open to all levels and is rated - "Beginner's". This is a slower paced class with deep stretching and a relaxing mediation.




Ashtanga Yoga, with its roots in Mysore India, as taught by Sri K. Pattabhi Jois, is a disciplined physical practice. Ashtanga is practiced sequential order, gradually leading the practitioner to rediscovering his or her fullest potential on all levels of human consciousness—physical, psychological, and spiritual.

Through this practice of correct breathing (Ujjayi Pranayama), postures (asanas), and gazing point (driste), we gain control of the senses and a deep awareness of our selves. By maintaining this discipline with regularity and devotion, one acquires steadiness of body and mind.
"Ashtanga" literally means eight limbs. They are described by Patanjali as: Yama (abstinences), Niyama (observances), Asana (postures), Pranayama (breath control), Pratyahara (sense withdrawal), Dharana (concentration), Dhyana (meditation), and Samadhi (contemplation).

These branches support each other. Asana practice must be established for proper practice of pranayama and is a key to the development of the yamas and niyamas. Once these four externally oriented limbs are firmly rooted, the last four internally oriented limbs will spontaneously evolve over time.